New cheese catalogue 2016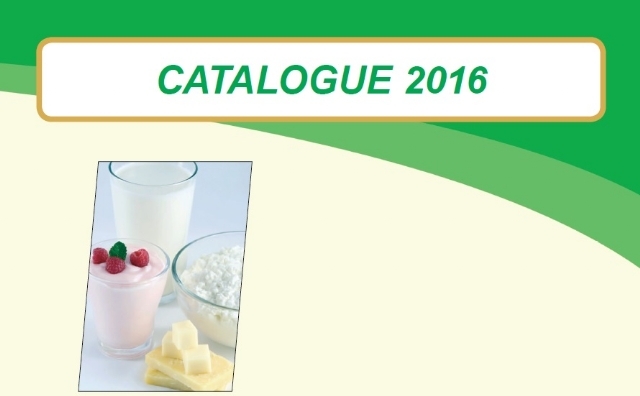 Dear customer,
we invite You to take a closer look into our new Plevnik cheese catalogue 2016. Click on the picture or text.
Certificate for the German market
The Plevnik company recieved another confirmation about the quality of our milk pasteurizers. From the Technical University of Munich (Institute ZIEL - Zentralinstitut für Ernährungs-und Lebensmittelforschung) we recieved a certificate of suitability of our pasteurisers for the German market. The company Plevnik will in the future strive to make our machines always keep pace with the latest technological guidelines.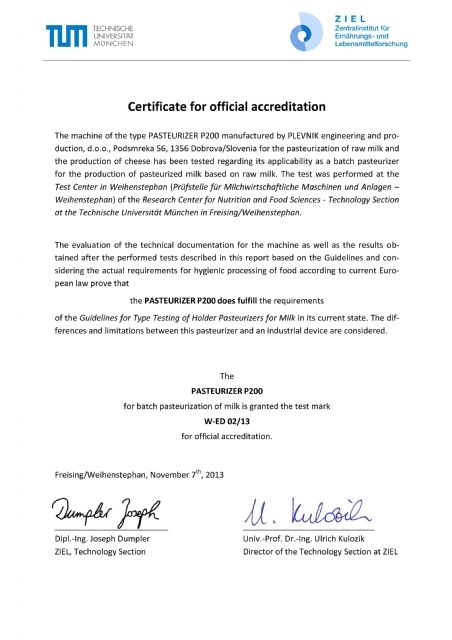 Brewhouse 2000 l
In September 2015 we successfully dispatched brewhouse 2000 l with fermenters to Norway.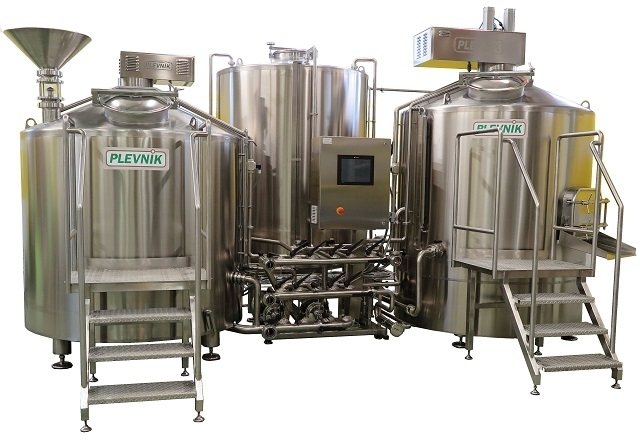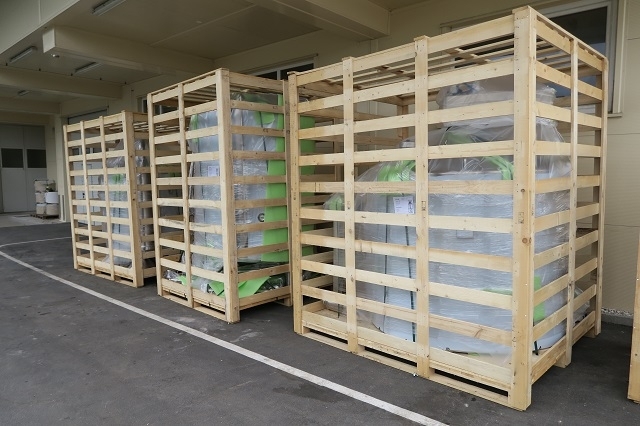 Cheese kettle with cooling aggregate SKH-H
We are pleased to present you our new machine - cheese kettle SKH-H with automatic harps and cooling aggregate for production all diary products (cheese, curd, yogurt, ...)
Cheese kettle SKH-H does the job of 4 different machines: Pasteurizer, Cheese kettle, Milk cooling tank, Fermentor. It's power is in heating up to 1000C and cooling down to 40C.
SKH-H advantages:
- 4 machines in one (pasteurizator, cheese kettle, milk cooling tank and fermentor)
- We can do all diary products in SKH-H,
- We can use it as a milk cooling tank
- All it needs is an electrical connection
- Does not need an outside source of heating (hot water, steam, gas,...) or cooling (water, ice water, ...)
- User friendly touch screen controller capable of saving up to 10 different programs,
- 20 - 30% lower operating costs then conventional system.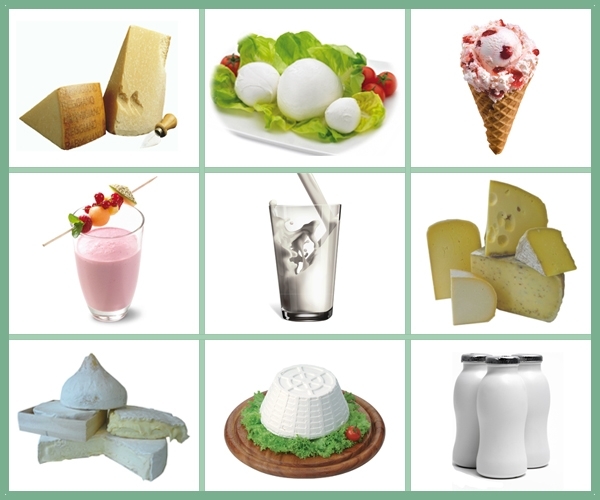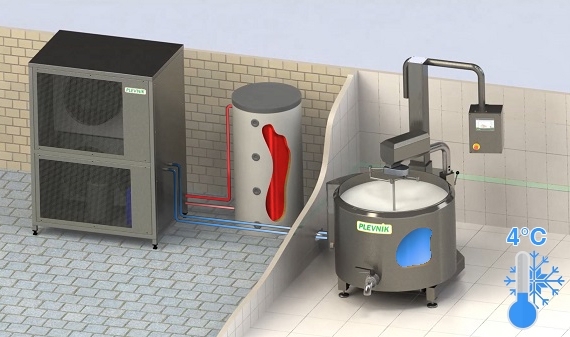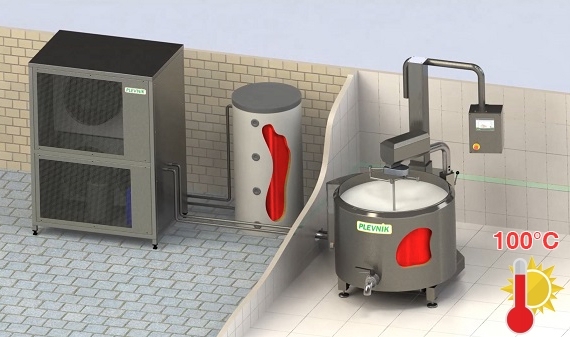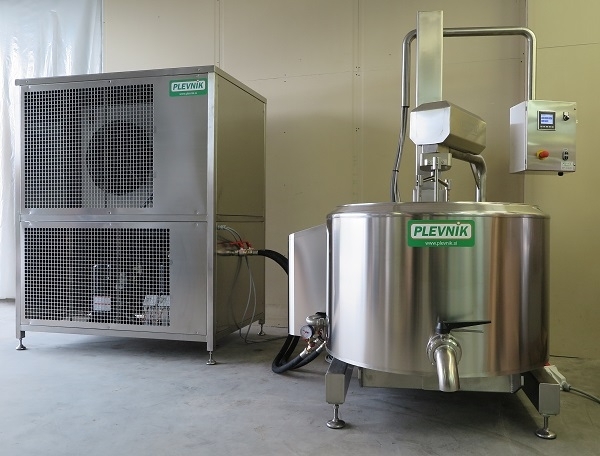 PST - new machine for production of yogurt, choco...
We are glad to present you our new machine - PST for thermal production of high viscous (dense) products (yogurt, chocolate, cream, pudding, ...) and adding additives (milk powder, cocoa powder, fruit bases, ...)
It is possible to simultaneously install slow and high speed mixers in PST machine.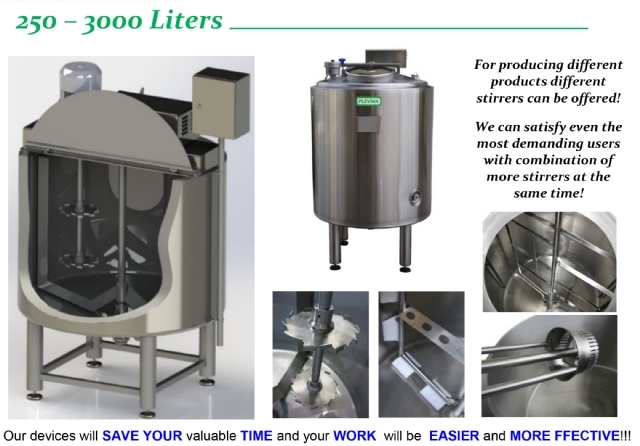 Pasteurizer ALL IN ONE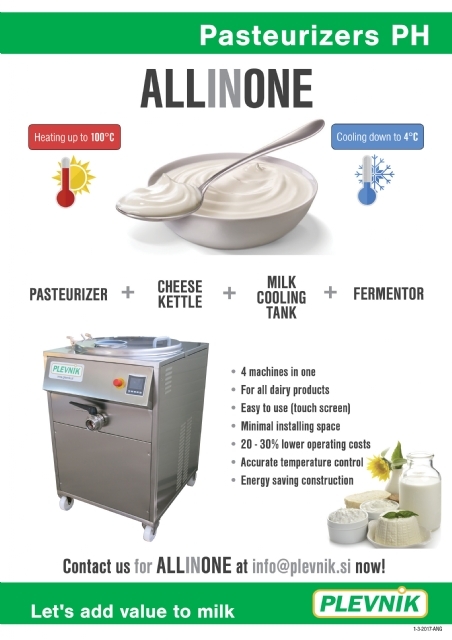 New controller MC500
New and upgraded Controller - MC500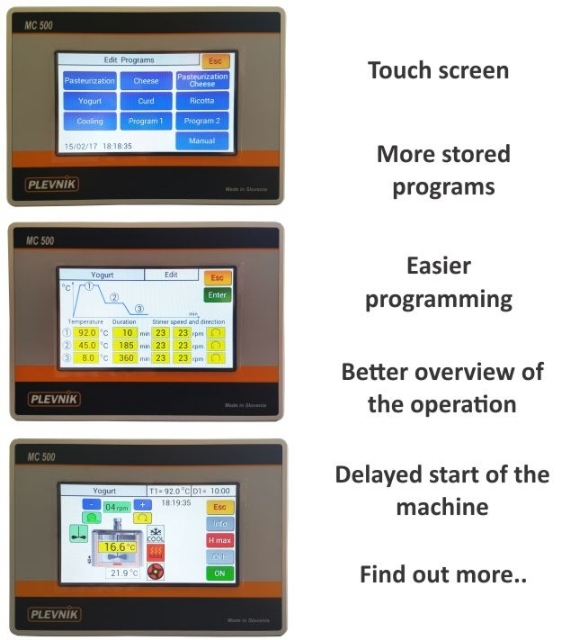 Technical specifications:
Color touch screen display 5" with 480×272 resolution (WQVGA)

Graphic display of the cheese kettle / pasteurizer operation

Allows saving up to 9 different programs of thermal treatment (pasteurization, cheese making, yogurt...)

Changing all the working parameters (temperature, _me, speed and direction of the stirrer) during the use

Special program for yogurt fermentation

Special milk cooling* program with alternating work of the stirrer

Allows programming the start of the stirrer for every duration _me (on/off) and allows at all times to manually start/stop the stirrer and change the stirrer's direction** and speed**

Allows the cooling* of the milk during the night and the automatic start of the thermal treatment in the morning without the presence of an operator
* with the use of an ice bank
** frequency regulator
Turnkey Container Dairy Solutions
TURNKEY CONTAINER DAIRY SOLUTIONS
Custom made solutions for your products and for your milk volume!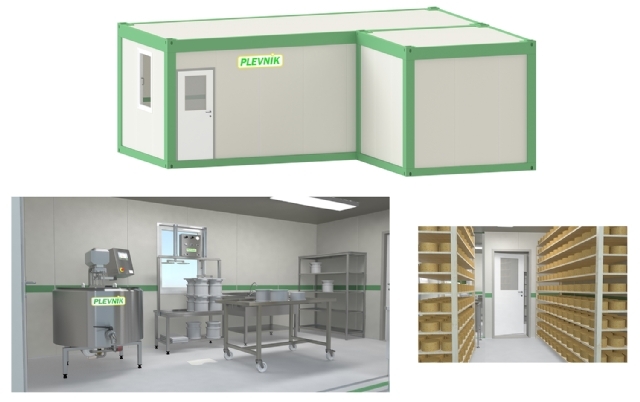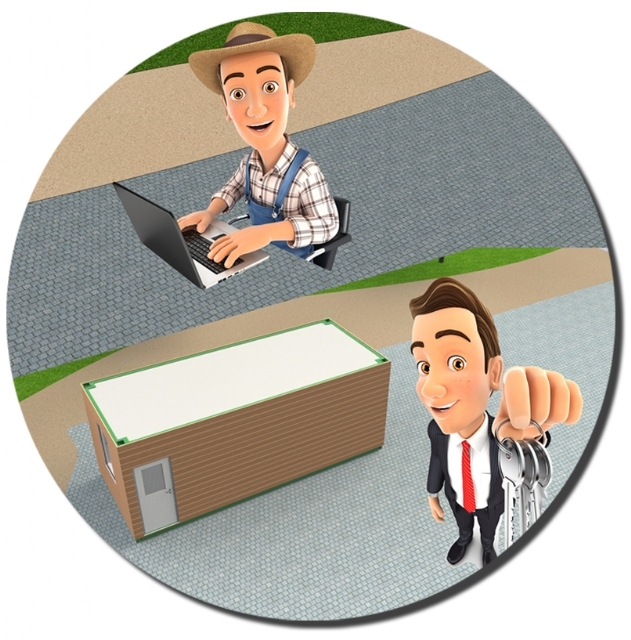 Order now... Start tomorrow!
Faster to build than traditional construction (20-times faster)
Without additional bureaucracy - without building permit.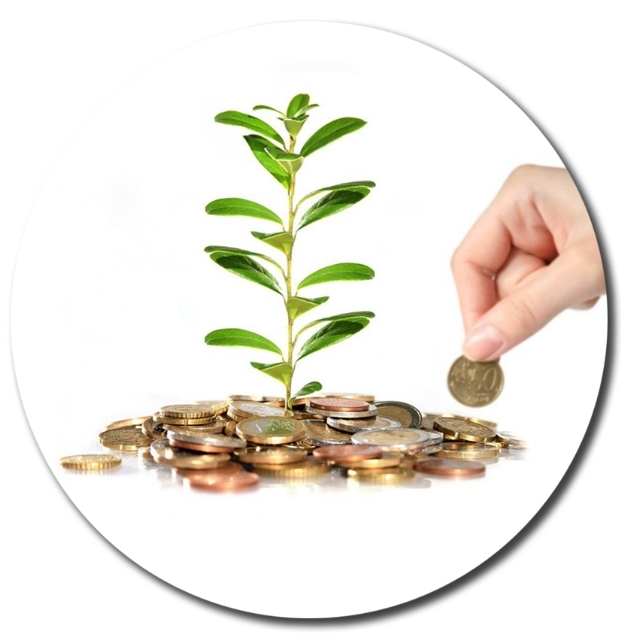 Accessible Investment
Fully equipped.
Zero additional costs.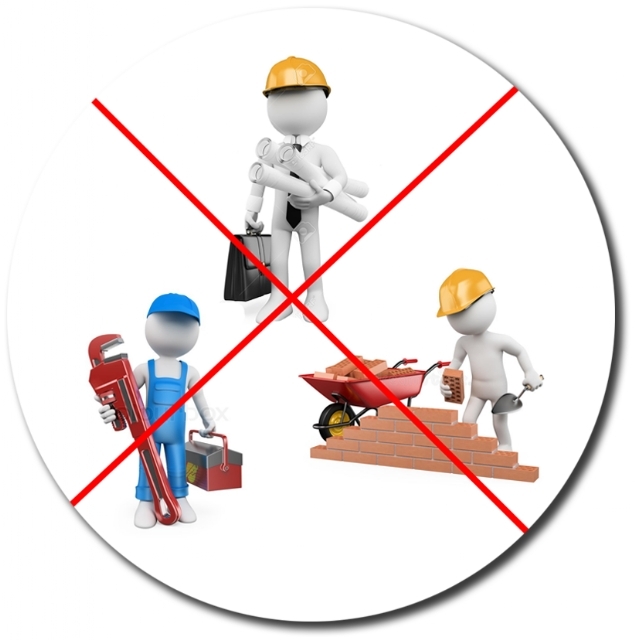 Think on business, the rest is included
Minimal ground work.
Less paperwork
According to HACCP standards.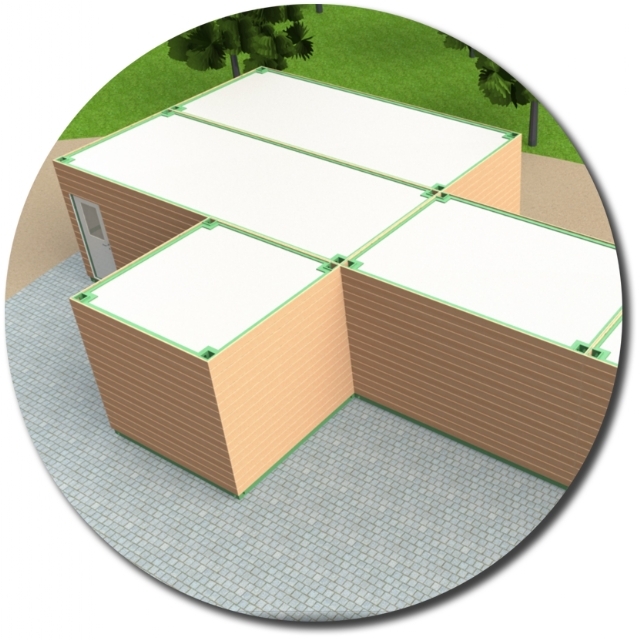 Flexible solutions
Allows expanding and further development;
(Easy adding additional units of maturation chamber, shop, packaging,..)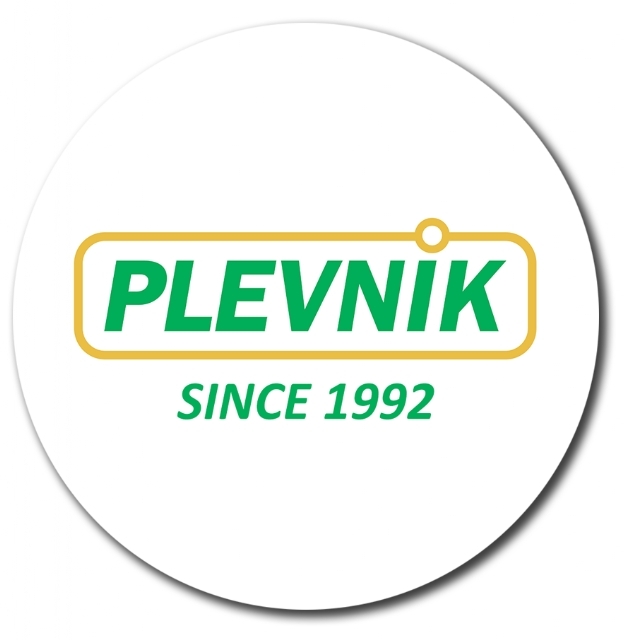 Know-how and support
Complete solutions.
Experience, research and development.
User-friendly controller MC 500
People are used to colour touchscreen displays all around – on cell phones, tablets, in cars, they are even common in our kitchens. So why not have them also in your dairy? Using colour touchscreen displays, visualisation is improved. Every action is simplified by intuitive user interface.
MC 500 is a state-of-the-art controller with a large colour touchscreen display that enables easy and flexible operation. Its advantages are:
User-friendly operation of up to 10 thermal treatment programs

It supports 6 languages – English, German, French, Swedish, Italian and Slovenian.

Parameters can be changed anytime during thermal treatment

Processes can be scheduled to start automatically at any given time using start delay, even during low rate electricity periods

The recording function enables effortless compliance with regulations and quality standards

Power and heating speed regulation
More >>>

Updated butter churn
Butter production has improved over the years – from manual butter churn to fully automated ones.
We have developed an updated version of Plevnik butter churn which will make your work easier and assure better results when making a wide range of products: butter, buttermilk, various cheese spreads, …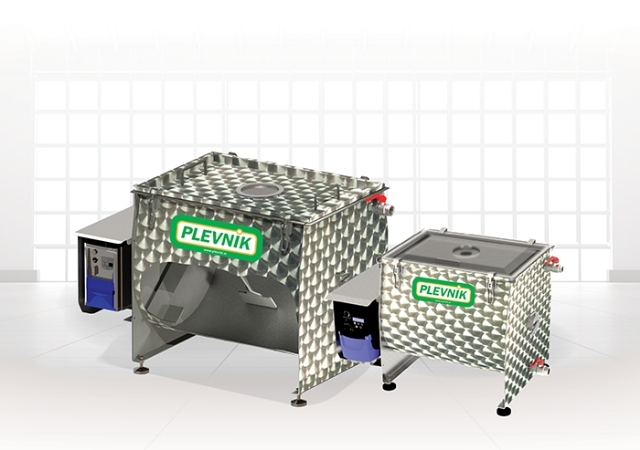 What is new:
Longer stirring shovels provide a better yield when processing cream or fermented milk
Stirring shovel running close to the wall ensure a higher kneading effect
Brand new cover enables safe and controlled processing – transparent acrylic cover for PJ 13 and PJ 25 and stainless steel cover with controlling glass for PJ 50 and PJ 100
Higher stable support or support on wheels for a more ergonomic operation with the churn and a special tilting mechanism that eases the emptying and cleaning of the churn (optional equipment for PJ 50 and PJ 100)
For more information click here or see the attached content below.
More information >>>

Plevnik cheese harps – the difference matters!
For better results in cheese-making, it is important to make more cheese mass and less cheese dust. Precise, gentle cutting assures that.
Plevnik cheese harps are specially shaped, sharpened and polished for a sharp, smooth cutting without pressing and tearing of the cheese mass. They are constructed without screws which makes changing of the stirrer simple. The stirrer can be changed in a single move. Handling with Plevnik cheese harps is completely safe and hygienic.
Cheese harps usually use wires as a blade, which leads to lower efficiency and more cheese dust, while Plevnik cheese harps are shaped like a blade and create a smooth cutline with almost no loss of cheese mass.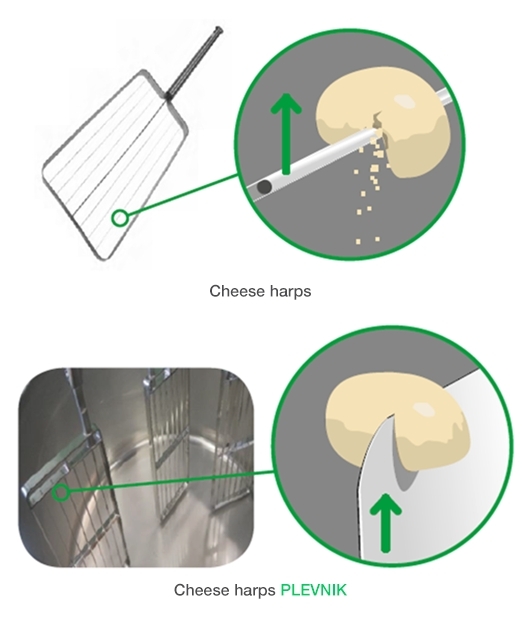 With Plevnik cheese harps you will get more cheese and less cheese dust!
New multi-purpose hobby stirrers
We present new multi-purpose stirrers for smaller batches. They are used for mixing products in kettles from 25 to 100 l.
The stirrers are suitable for different stirring and mixing processes, such as mixing in of powdered milk and various powdered additives, for product homogenization, for liquid yogurt production, for crushing of larger pieces, such as fruit (stirrer TYPE-D is more effective), …
The use is simple, the stirrer is clamped onto an electrical drilling machine.
The stirrer is made of plastic, so the container is not damaged during stirring.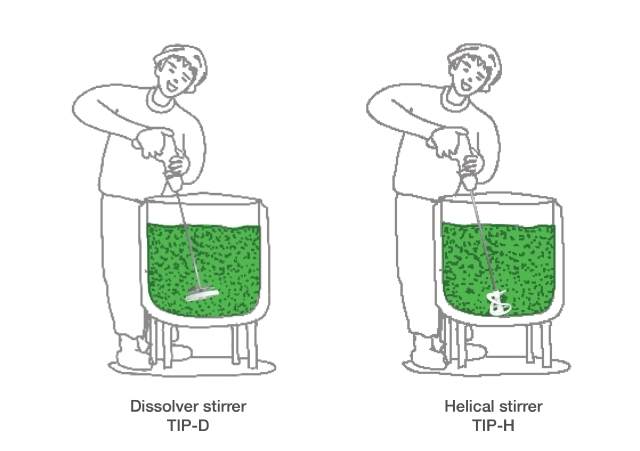 More information >>>

Protect your health with an elevator
SET YOUR WORKING HEIGHT AS YOU NEED.
Everyone who runs business wants to increase productivity and efficiency. This is possible when workers have a good working environment. Best working zone enables easier work with less physical stress.
1. HEALTH FIRST
Long term work in inappropriate working environment can cause poor posture which leads to several health problems like back pain, neck pain, headaches and other. With Plevnik elevating device you can adjust working height anytime to your best work zone.
2. USEFUL HIGHT
Recommended also for lower ceilings heights. Tilting of kettle enables to complete outflow of cheese mass. Easy, better and faster cleaning under the kettle.
3. ECONOMIC ERGONOMY
With elevating device, you can do your work faster and easier (physically). In this way you increase productivity, have less work-related illness and get happy, healthy co-workers.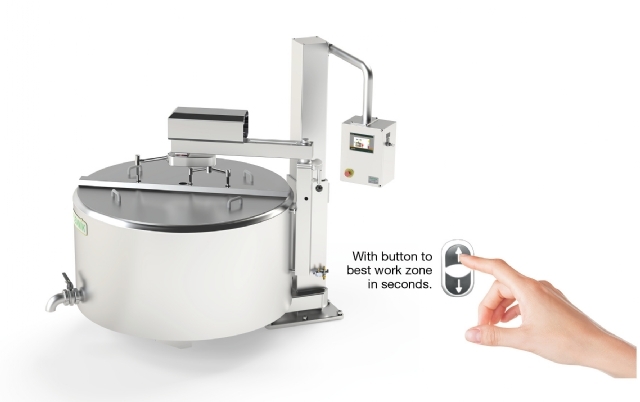 More information >>>

Plevnik prepress PRP-R: A three-in-one device
Cheese prepress PRP-R is a three-in-one device: draining table, prepress and press. This is a very efficient solution for smaller dairies (with up to 300 kg of cheese per batch).
Advantages of prepress PRP-R:
It takes up less space and it is very cost-efficient.

A multipurpose device for receiving the cheese mass, draining the whey, prepressing using compressed air, manual cutting of the cheese mass into desired cheese blocks and pressing the mass in cheese moulds.

Wide usability – suitable for making semi-hard and hard cheeses in smaller batches and for making soft cheeses, draining of whey etc.

Reliable, robust and long-lasting.

PRP-R offers automatic or manual pressure regulation which is useful for producing different types of cheeses. It saves time, increase effectiveness and enables controlled and repeatable processes.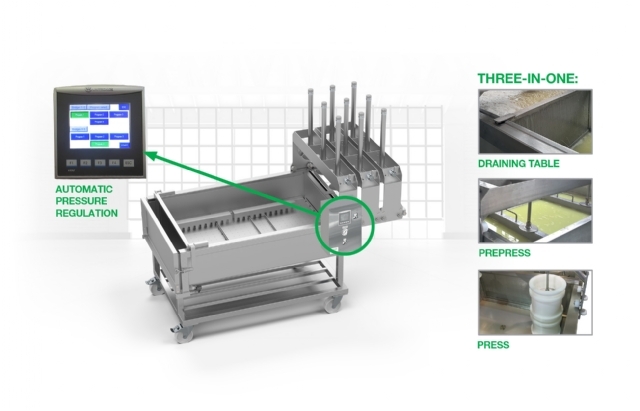 Like all Plevnik products, PRP-R is made from quality materials, it is user- and environmental-friendly. It is developed, designed and produced entirely in Plevnik.
>> More information about prepress PRP-R

New controller MC 500 R
Having full control and overview over dairy processes has become more and more important. Plevnik is presenting new controller for milk and cheese production MC 500 R with integrated recording function. It is a big step forward in dairy industry and a great opportunity for every cheesemaker because it offers:
Easy and user-friendly operation via a large touchscreen.
Outstanding flexibility with simple setup of up to 10 thermal treatment programs, adjustable to your recipes. - Repeatability of processes to ensure standardized products.
Start delay, so processes can be scheduled to start automatically at any given time, even during low rate electricity periods.
Total control and overview of processes with integrated process recorder. There is no need to buy a separate recorder.
PC software to view and save recorded processes on your computer.
MC 500 R makes it easier to evolve existing and develop new products as well as follow all regulations.
Simple automatization of dairy processes available on Plevnik devices. Contact us for more information or for an offer.
>> More informaction about MC 500 R

Keep following us on Facebook, YouTube and LinkedIn.
Complete equipment for your dairy
Plevnik is specialized in production of complete equipment for batches of 100–2.000 l (up to 6.000 l) of milk a day, processed into dairy products. We cover all major processes in dairy industry with devices that are very practical, energy efficient, automated, reliable and flexible at the same time.
Plevnik is a developer and producer of complete dairy solutions
We are creating new and upgrading existing products by developing the best technical, energy efficient and economical solution, and offering our customers a pleasant user experience.
At Plevnik, you can get complete dairy solutions in one place. Save money, time and energy. This is a great opportunity to expand your product range. Aside from the equipment, you will also get all technical support, including service and warranty. We offer:
Complete lines for cheese and curd production

Complete lines for yogurt production

Complete dairies

Complete lines for butter production

Equipment for washing ang cutting of cheese

Complete salting systems

Systems for cleaning the equipment (CIP)

...
Why Plevnik?
We listen to your requests and offer professional consulting.

We manufacture innovative products that are based on our own knowledge.

We offer complete technological solutions tailored to your needs.

Our products are reliable and of high quality.

We offer up-to-date technical support.
Be more effective and competitive! Add value to milk!
Click here to download our latest brochure From idea to product.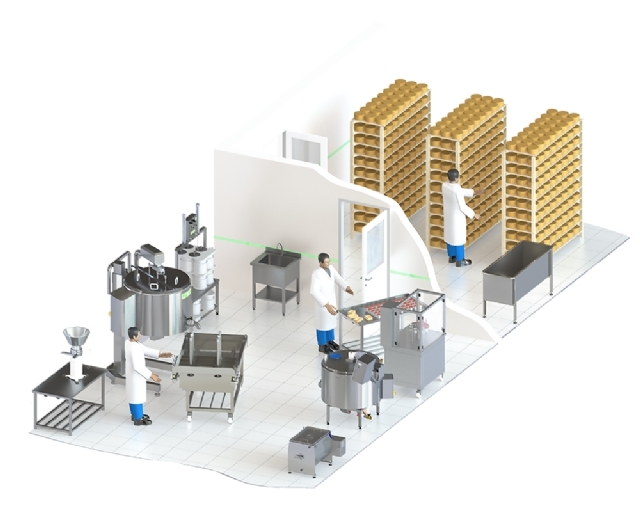 New product: Cheese press with draining and prepressing function
Plevnik is presenting a brand-new product – pneumatic draining press POS. It's a cheese press with integrated draining table, that enables draining, prepressing and pressing of cheese mass in one device. POS is a perfect device for cheesemakers with smaller batches of milk (up to 500 l/day) who need a cheese press.
Advantages of Plevnik pneumatic draining press:
Draining, prepressing and pressing using one device

Three devices in one enable optimum use of space – a great solution for smaller dairies

Excellent ratio between quality and price – three high-quality devices for the price of one

Support on wheels and working height enable ergonomic operation with the machine

Adjustability to your batches and recipes

Standardized products are ensured with standardized and automated processes
Multifunctionality: A three-in-one device
Draining table is used for draining of the cheese mass. Working height makes it easier to accept the cheese mass directly from the kettle. It's easier to move the device around due to support on wheels. One fixed and one movable draining grid enables processing of different quantities. The tub also enables prepressing of the cheese mass using the pressing points and the segmented perforated plate. After the whole process of prepressing and pressing is done, the POS can be used as a vessel for washing the cheese moulds.
Contact us for more information or for an offer.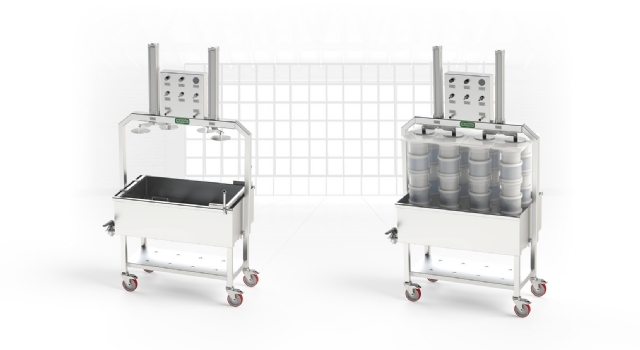 >> More information about penumatic draining press

Efficiency at a higher level: SKH/SCH 2O
We are presenting a brand-new product: cheese vat SKH/SCH 2O. It uses two O-shaped kettles merged into one uniquely shaped cheese vat and presents a modern, up-to-date space-saving solution. This new cheese vat helps you achieve more. Specially shaped harps ensure higher efficiency – you get more cheese from the same volume of milk since the precise cutting of the cheese mass is extra precise. It is appropriate for processing larger quantities of milk (from 500 to 5000 litres).
The advantages of cheese vat 2O are:
2–4 % more cheese mass from the same quantity of milk due to cheese harps with sharp blades that ensure a higher cutting quality.

Up to 10 % lower energy consumption due to good isolation of the container and laser welded coating.

Reduced labour costs. It has no planetary drive.

Faster discharge of the vessel. The conical bottom has two drains.

Less space occupancy.

Advanced control of thermal treatment processes with user-friendly controller MC.
A closed execution is also available – cistern SCH 2O, that has additional advantages:
Additional energy savings and better process control due to the closed execution.

Cleaning in place (CIP): high-quality cleaning with an automated system (CIP), which saves time, money and water.

Closed execution enabled also the highest hygienic standards to be achieved, as there are no external factors.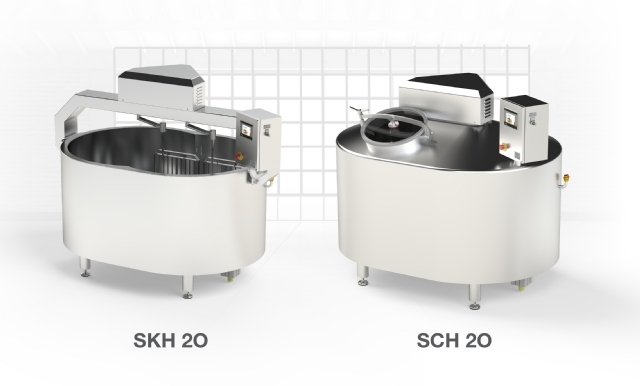 >> More information

Tilting mechanism makes work with butter churn easier
A very important part of every process is also the ergonomic suitability of devices. At Plevnik, we are aware of that and have developed tilting mechanism – a special function exclusive to Plevnik butter churns PJ 50 and PJ 100.
Due to tilting, emptying of butter and cleaning of the butter churn are easier than normally. Tilting requires minimal physical effort because of the positioning of the handle. Butter churn with tilting mechanism comes with a working height, which is the same as the height of stable support.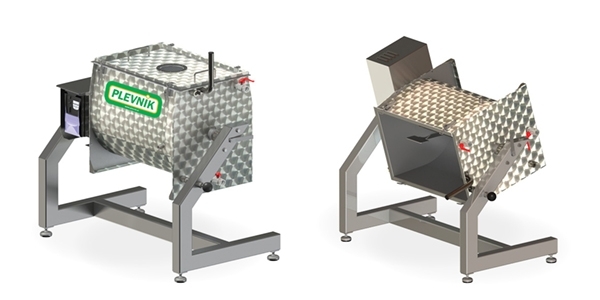 Click here for information about Plevnik butter churn PJ.
Contact us for more information or for an offer. We also invite you to see the list of items in stock.
Cheese cutting device with improved cutting knives
Most of cheesemakers would agree that manual cheese cutting is hard and tiresome. It takes up a lot of time and is not very precise.
We are presenting an effective solution: Plevnik cheese cutting device RS. It's a modern device that cuts all types of hard and semi-hard cheeses in all maturation stages into equal pieces. You can choose between cheese cutting devices for up to 300 mm or up to 400 mm cheese diameter and the cutting knifes to cut the cheese wheels into anything from 2 to 15 pieces or even more (by demand).
The advantages of Plevnik cheese cutting device RS are:
All pieces are of equal dimensions

It saves a lot of your time – you can cut even up to 360 wheels of cheese in one hour

Use is simple and intuitive using only three buttons

Operation with the device is completely safe

The device is made out of high-quality materials that enable simple maintenance and cleaning

The only thing needed for operation is a standard compresses air connector – no electric source is needed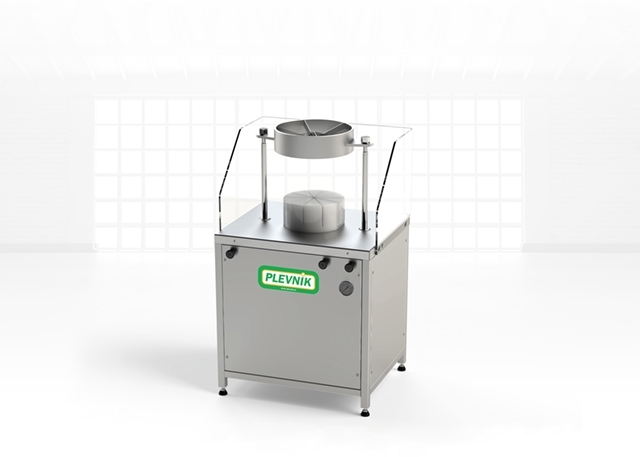 Improved cutting knives
We are offering a special 2-in-1 solution: cutting knife with one regular and one adjustable blade for cutting cheese into 2 or 4 pieces. The adjustable blade can simply be removed or added back – a functional solution. This knife takes up less space than two separate knives. It is also a cheaper solution.
>> More information

Reliable quality at Plevnik
One of our main goals is to help you add value to milk with Plevnik devices. Only the best quality is good enough for our customers.
Investing in development and improving our devices guarantee excellent user experience which is one of our main competitive advantages. Plevnik devices are environmentally friendly and energy-efficient solutions, designed and produced for long-term use.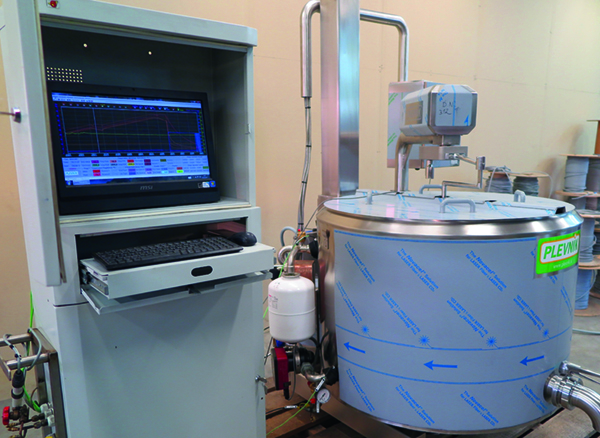 We are aware that top products come from high-quality basic materials, and therefore we perform quality control of the input materials and during the whole production.
Every final product must pass a final visual, functional and mechanical control. For hours, every machine is put on the tester, which controls up to 14 different parameters to test each function of the machine. We ensure our customers get fully functioning machines.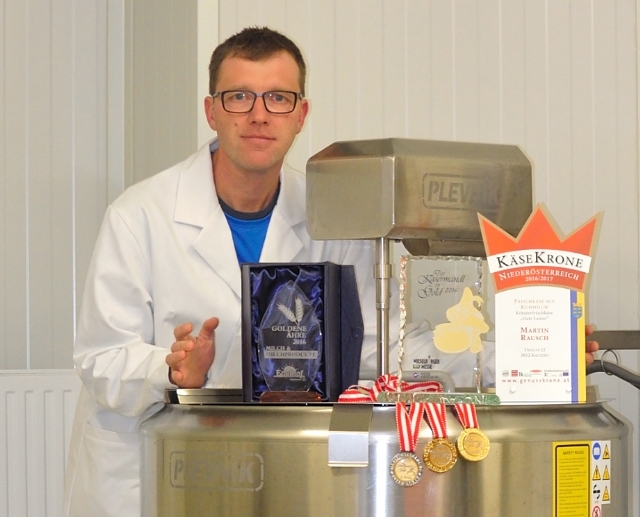 Newly developed device for continuous flow pasteurization: flow pasteurizer PP
To ensure health safety of drinking milk and other dairy products and extend the shelf life of final dairy products, milk treatment is essential. One of the most commonly used types of milk treatment is pasteurization.
Plevnik continuous flow pasteurizer is the right solution for producers of larger batches drinking milk and other dairy products. It is a brand-new product for flow pasteurization from 300 to 3.000 l/h. Pasteurization runs in accordance to all standards – at a higher temperature (72–75 °C) in a shorter time (15–20 s) and doesn't affect the flavour of final product.
The advantages of Plevnik continuous flow pasteurizer PP are:
Low energy consumption for production of drinking milk, cheese and yogurt
Up to 3 times faster compared to batch production
Up to 12 times less energy consumption for drinking milk pasteurization and up to 3 times less energy for yogurt or cheese production
Processes are adjustable to your recipes
Various capacities of the device to accommodate your needs
Increased product safety and reinfection prevention
Cleaning of the device is automated using the integrated CIP
Full control over processes with PLC controller and integrated recorder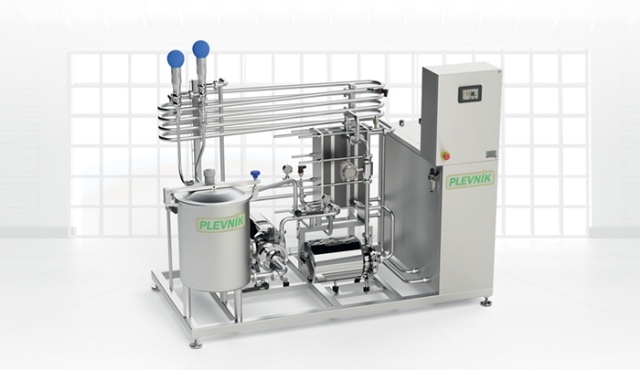 Important:
Pasteurized milk is not only a final product, but is also used as a material for further production
Pasteurisation process stops vital activity of pathogenic microorganisms
Up to 90 % less energy consumption and much faster process compared to batch pasteurization
>> More information about flow pasteurizer PP

>> More information about milk pasteurization with Plevnik devices

Traditional alpine cheesemaking: new cheese kettle with copper inside SKH-Cu
New Plevnik copper cheese kettle is cheese kettle SKH with copper inside. The kettle enables a traditional way to produce different types of cheese using modern equipment. Copper is a traditional material used in cheesemaking and has been used for a long time. It has been mostly used in the Alps and final products have a special, unique taste.
Advantages of Plevnik Cheese kettle with copper inside SKH-CU:
The inside is made of copper which helps suppress pathogenic organisms in milk
Copper prevents late-blowing of cheese and is known to have many positive health effects
Four different sizes: 300, 650, 1000 and 1500 l to accommodate your needs
Three different types of heating are possible: electrical (EL), hot water (HW) or combined (EW)
The kettle is made from high-quality, long-lasting materials
Reliable, controlled and repeatable processing with a modern touch-screen controller MC 500
Cheese harps in the kettle ensure a precise cut with less cheese dust and more cheese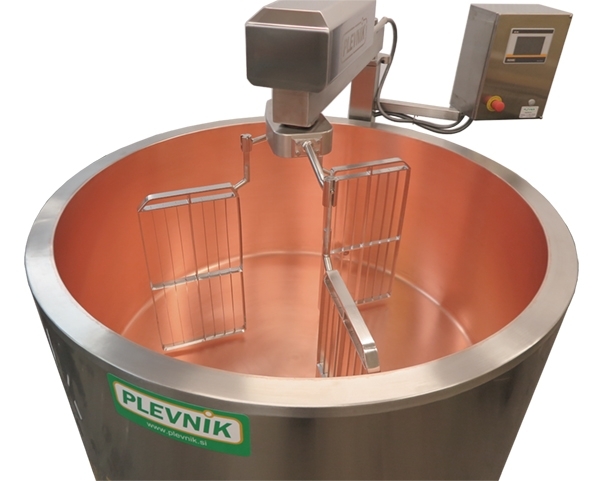 Main equipment for SKH-Cu Professional includes: controller MC 500, cheese harps, energy-saving construction, two-part cover, stable support with tilting mechanism and stirrer speed regulation.
A wide range of additional equipment: elevating device, controller MC 500 R, different stirrers, pneumatic seat valve, … to make it completely suitable to your needs.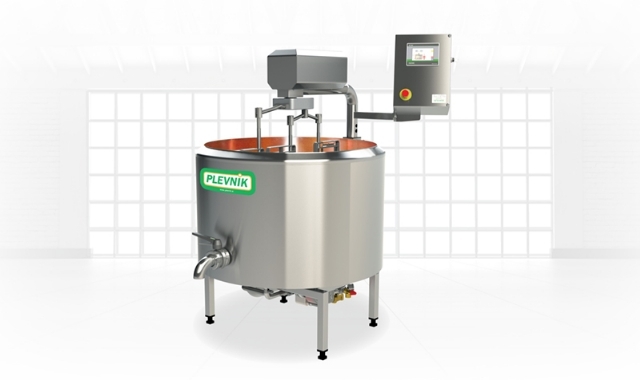 Copper is an important element for health and nutrition. According to European Copper Institute, 1–2 mg of copper a day provides essential health benefits, for example bone strength, heart muscle contraction and brain development. (Source: European Copper Institute: https://copperalliance.eu/benefits-of-copper/health/, quoted 11. 3. 2019)
>> More information about cheese kettle - copper SKH-Cu

Lower transport costs for cheese tables SM with detachable legs
Our focus is to offer complete dairy solutions. We offer complete lines for dairies.
Plevnik cheese tables SM are made for versatile use in a dairy. They are on wheels and have a raised edge of 40 mm that enables controlled draining in combination with the outlet. The tables are made from AISI 304 stainless steel.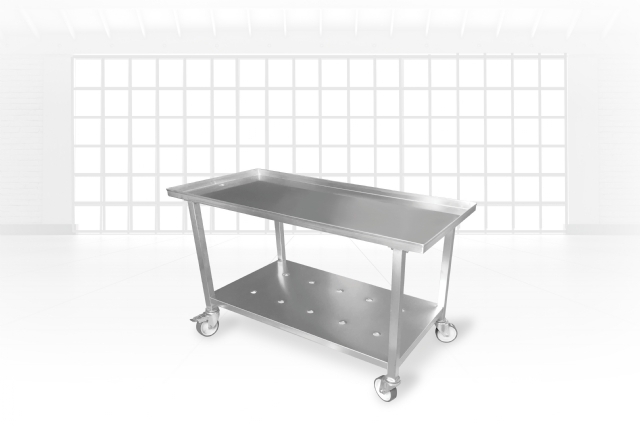 Cheese tables SM 97, 147 and 199 have detachable legs. That makes it easier to pack a cheese table together with a cheese kettle SKH or pasteurizer P (volume 100–300 l), because it utilizes the space well. In that way there are no additional packages and no significant additional transport costs.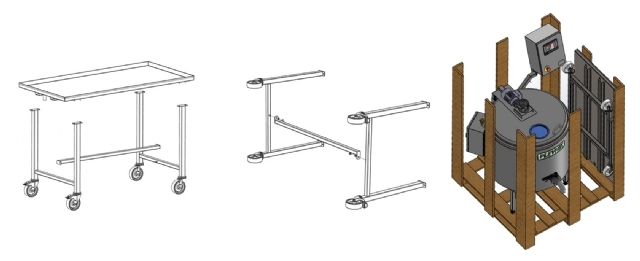 >> More information about cheese tables Plevnik

Economical solution: new Plevnik butter churn PJ 50 Basic
Plevnik butter churn PJ is a modern device for butter and buttermilk production. Now, a new version of PJ 50 is available – PJ 50 Basic. It is an economical solution for butter producers who process up to 50 liters of cream into butter and don't need to maintain the temperature of cream and butter. It has a basic coat (2B finished stainless steel) with no secondary coat.
Advantages of butter churn PJ 50 Basic are:
Fast processes are ensured with stirring shovels running close to the wall
Butter churn adapts to different fat contents in products with a speed regulated electric motor
All processes are safe and controlled because of stainless steel cover with a viewing glass
Facilitated emptying of the churn is enabled with a detachable mixer
Easy cleaning of the interior is possible due to specially treated inner surfaces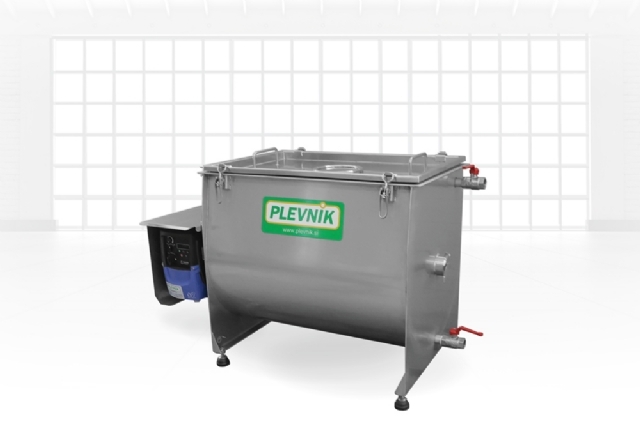 Additional equipment is available for more ergonomic work:
Tilting mechanism: easier emptying and washing (drainage) because of tilting
Support on wheels: moving around the dairy is simple
Stable support: easier work with the butter churn due to working height (900 mm)
New professional stirrer for yogurt, cheese and milk
Plevnik has developed a new professional stirrer for processing of 100–500 liters of milk. It can be used with cheese kettles SKH Basic and Basic+, and all executions of pasteurizer P for production of yogurt, cheese, milk and also for stirring in various supplements. A good pumping effect is created with long stirring shovels that still act gentle of the product – helical principle of stirring.
Stirrer speed regulation is mandatory with the new stirrer. It enables choosing stirring speed and direction. Outflow DN65 is recommended for easier emptying of the kettle.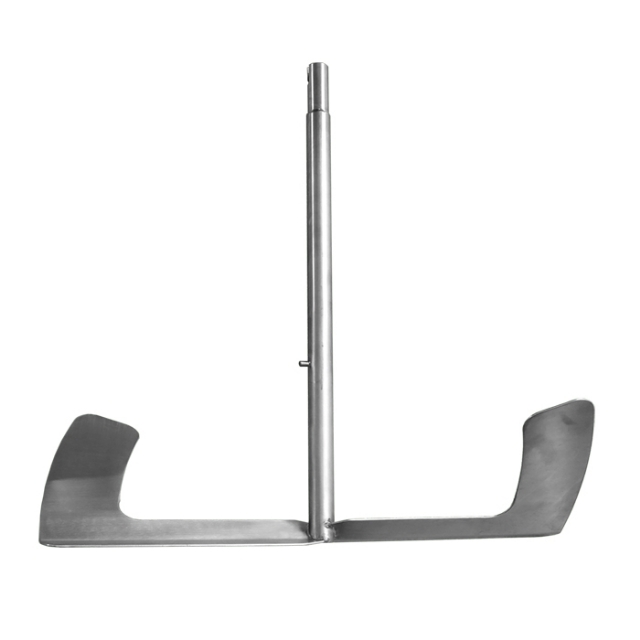 New professional stirrer for processing up to 100 liters of milk. It is suitable for yogurt and cheese production and for heating/cooling of milk. With movable stirring barrier* the stirrer is appropriate for stirring of products with lower viscosity.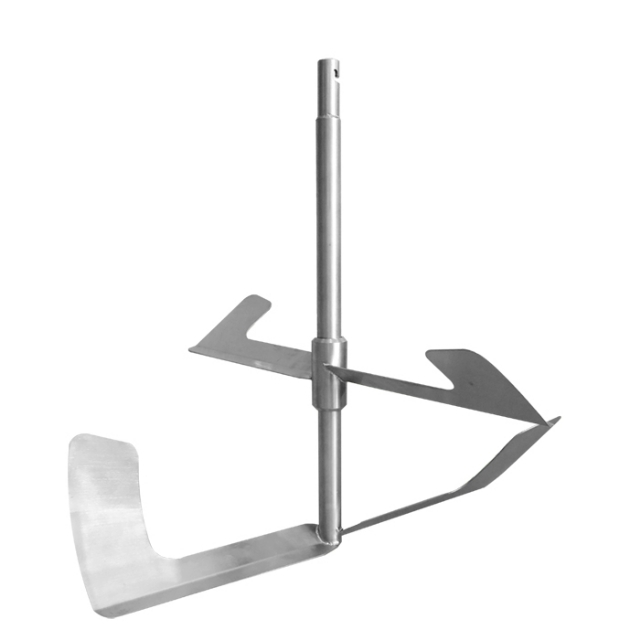 For processing 200–500 liters of milk, stirrer with two levels of removable stirring shovels is available. Suitable for production of liquid yogurt and soft cheese. For stirring of milk and production of products in smaller volumes, only the bottom level of stirring shovels can be used. With movable stirring barrier* the stirrer is appropriate for stirring of products with lower viscosity.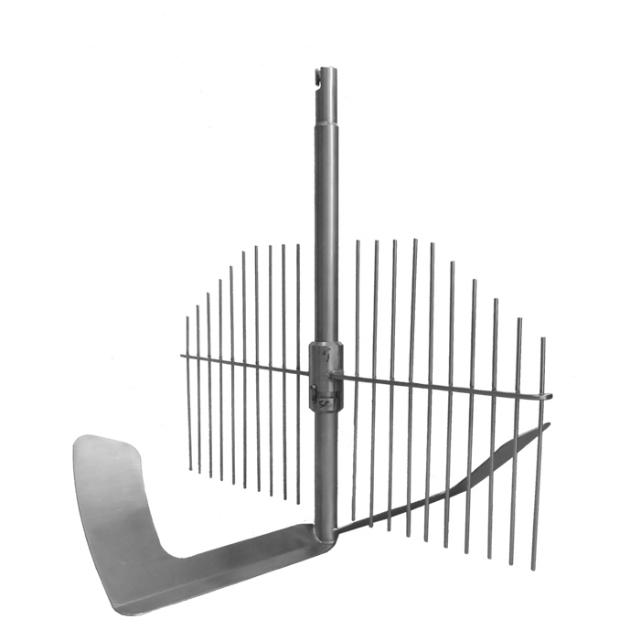 Functionality of the stirrer can be extended with an optional detachable part that can be added to the lower level of the stirrer. With rakes attached to the upper level, the stirrer enables better homogenisation and is appropriate for stirred yogurt production. The stirring is gentle and the structure of the product is not affected. Volumes: 100–500 l.
*Movable stirring barrier is included for kettles of 300 l and above and for special executions of 100 and 200 l.
Plevnik working platforms for cheese kettles and pasteurizers
Working environment should be ergonomically suitable and efficient at the same time. Plevnik is offering working platforms for cheese kettles and pasteurizers in all dimensions. This is an efficient solution for cheesemakers who want to have more control over the processes and produce with less physical effort.
The advantages of Plevnik working platform:
Simpler ergonomic work: access to the kettle on one side through a staircase with a safety rail

Emptying of the kettle directly into the cheese table or prepress due to working height

Higher control of the processes – you can look directly in the kettle

Easier cleaning of the kettle and under the kettle

Less physical effort when distributing cheese mass
The outlet of the kettle is positioned higher than usually due to the height of the working platform – we recommend the combination of the kettle on platform with cheese prepress, cheese draining table or pneumatic draining press POS. The prepress or the table is positioned directly under the outlet. That makes work faster and more efficient. No physical effort is needed –otherwise can cheesemakers experience severe lower back pain when they distribute cheese mass manually from the kettle to the prepress or the table.
For cheesemakers with larger batches looking for more than one kettle, Plevnik recommends a double working platform. Two kettles can fit on this platform, one on each side. Cheesemakers have control over both kettles, since there are very close to each other. This also applies for two kettles of different dimensions, such as SKH 500 and SKH 1000. They can both fit on one double working platform.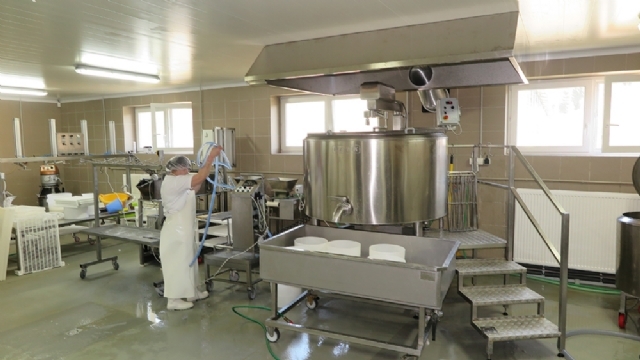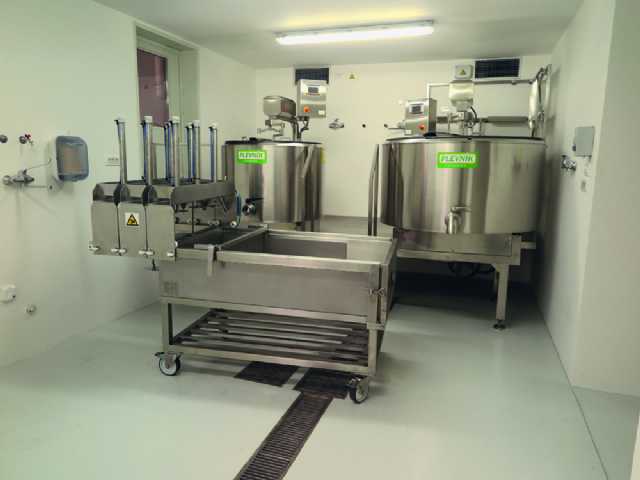 New Plevnik elevating device for volumes 100–300 liters
Plevnik has developed a completely new solution for cheese kettles SKH and pasteurizers P with volumes of 100–300 liters: new elevating device with an electrical screw lift instead of hydraulic aggregate. This new solution is a much more affordable investment compared to the previous elevating device.
The advantages of Plevnik elevating devices for volumes 100–300 l:
Easier work with less physical stress because you can work in the best working zone
Time-saving with direct streaming of cheese mass into prepress or table – maximum height of the outlet 1050 mm enables that
Facilitated emptying of the kettle due to tilting mechanism
Effortless operation of the elevating device with just two buttons
Great solution for dairies with lower ceilings – maximum height of the elevating device is 2150 mm
Elevating device is free standing – it does not need to be installed anywhere and can be moved easily if needed
Simple maintenance and cleaning – made of stainless steel AISI 304
Better access and cleaning under the kettle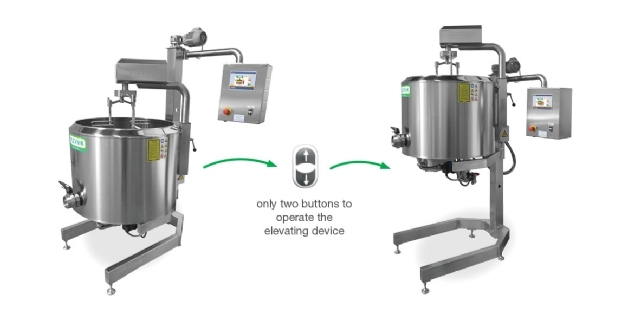 Elevating device makes cheesemakers' work faster with less physical stress. It increases the productivity and reduces work-related illnesses. We recommend a high-quality device Plevnik with the best ergonomic equipment.
Protective net in front of the harps – Cheese kettle SKH
Safety is always important.
Plevnik is presenting a new solution for cheese kettles SKH: a protective net in front of the harps. This new solution guarantees protection when cutting cheese mass.
Harps are sharp and can cause serious injuries when reaching inside the kettle. This mechanical solution automatically stops the active process if the net is lifted. The design is up-to-date and efficient – lifting the net is a simple task. It is a great solution for educational institutions such as schools, where safety is a priority.
.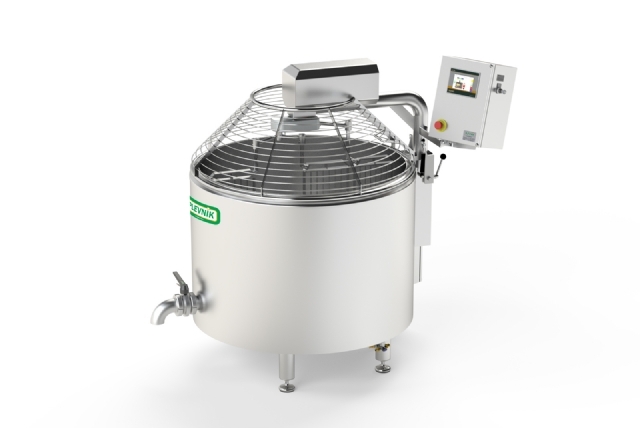 During the process, you have full visual control over the process. You can see inside the kettle and also add various additives or ingredients.
>> More information about cheese kettle SKH
New and even better Plevnik cheese harps
New Plevnik cheese harps enable a precise cut which improves the quality and quantity of final product. They also ensure efficient stirring and drying of cheese grain.
Plevnik cheese harps are now updated:
A – Cutting: automated harps with sharp and thin blades ensure a precise cut, which improves the quality and quantity of the final product (less cheese dust and more cheese).
B – Stirring (other direction of harp spinning, activated with only one press on the controller): stirring shovels are automatically activated when the stirring direction changes, and build the required stirring speed for more efficient stirring and drying of the cheese grains.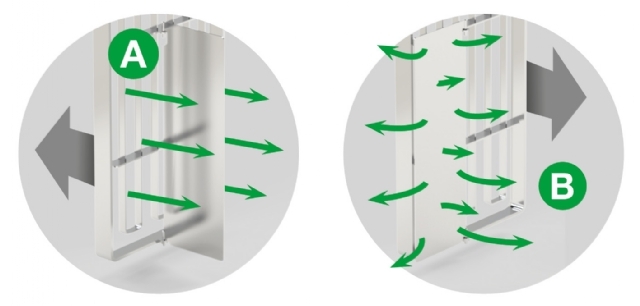 Harps can be easily substituted with other stirrers in a single move, because they are constructed without screws – less possibility to contaminate your product.
Operation with Plevnik cheese harps is completely safe. With the new stirring shovels, no manual intervention in the kettle is needed.
The result of work with Plevnik cheese harps is a great yield and higher efficiency.
>> Read more about Plevnik cheese kettle SKH
Intermediate plates for pressing
Presses are devices for pressing various quantities of cheese mass in moulds. They are suitable for making semi-hard and hard cheeses in various batches.
The presses are available in mechanical and pneumatic versions. The pneumatic versions are further split into universal, vertical and horizontal.
Intermediate PE plates for pressing are available for MS-U, PPS-U and PPS-A press types as additional press equipment.
Intermediate PE plates are an efficient solution for cheese makers. They provide a more uniform pressing of stacked cheese moulds. With the intermediate plates, you have the possibility of stacking cheese moulds in parallel and also vertically in 2-4 levels in height under one pressing point. With them you can efficiently multiply the number of cheese moulds pressed.
PE plates are inserted between cheese moulds levels. Level separation allows equal distribution of pressing force and use of different dimensions of cheese moulds. Plates are made from PE plastic that is durable and made with smooth surfaces that allows quick and efficient cleaning. The dimension of the plates is 240x490x20 mm.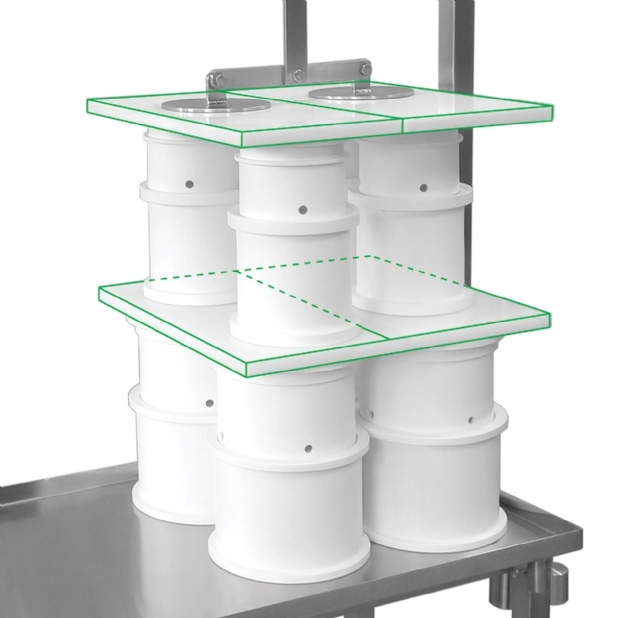 The advantages of PE plate:
stacking cheese moulds 2–4 levels high under one pressing point,
equal distribution of pressing force,
use of different dimensions of cheese moulds,
simple cleaning.