Plevnik prepress PRP-R: A three-in-one device

10.10.2018
Cheese prepress PRP-R is a three-in-one device: draining table, prepress and press. This is a very efficient solution for smaller dairies (with up to 300 kg of cheese per batch).
Advantages of prepress PRP-R:
It takes up less space and it is very cost-efficient.

A multipurpose device for receiving the cheese mass, draining the whey, prepressing using compressed air, manual cutting of the cheese mass into desired cheese blocks and pressing the mass in cheese moulds.

Wide usability – suitable for making semi-hard and hard cheeses in smaller batches and for making soft cheeses, draining of whey etc.

Reliable, robust and long-lasting.

PRP-R offers automatic or manual pressure regulation which is useful for producing different types of cheeses. It saves time, increase effectiveness and enables controlled and repeatable processes.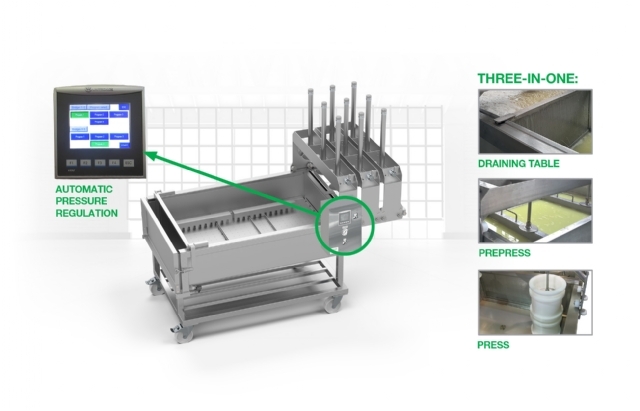 Like all Plevnik products, PRP-R is made from quality materials, it is user- and environmental-friendly. It is developed, designed and produced entirely in Plevnik.
>> More information about prepress PRP-R