New product: Cheese press with draining and prepressing function

28.11.2018
Plevnik is presenting a brand-new product – pneumatic draining press POS. It's a cheese press with integrated draining table, that enables draining, prepressing and pressing of cheese mass in one device. POS is a perfect device for cheesemakers with smaller batches of milk (up to 500 l/day) who need a cheese press.
Advantages of Plevnik pneumatic draining press:
Draining, prepressing and pressing using one device

Three devices in one enable optimum use of space – a great solution for smaller dairies

Excellent ratio between quality and price – three high-quality devices for the price of one

Support on wheels and working height enable ergonomic operation with the machine

Adjustability to your batches and recipes

Standardized products are ensured with standardized and automated processes
Multifunctionality: A three-in-one device
Draining table is used for draining of the cheese mass. Working height makes it easier to accept the cheese mass directly from the kettle. It's easier to move the device around due to support on wheels. One fixed and one movable draining grid enables processing of different quantities. The tub also enables prepressing of the cheese mass using the pressing points and the segmented perforated plate. After the whole process of prepressing and pressing is done, the POS can be used as a vessel for washing the cheese moulds.
Contact us for more information or for an offer.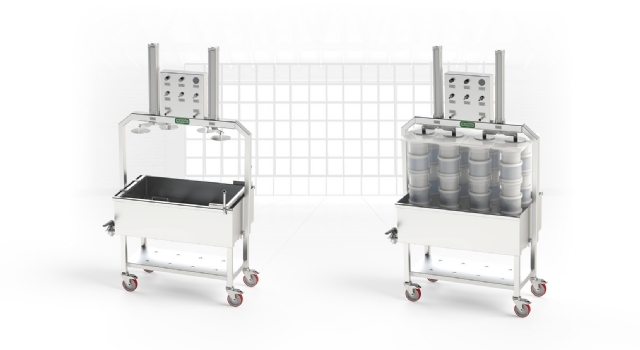 >> More information about penumatic draining press