Cheese cutting device with improved cutting knives

4.1.2019
Most of cheesemakers would agree that manual cheese cutting is hard and tiresome. It takes up a lot of time and is not very precise.
We are presenting an effective solution: Plevnik cheese cutting device RS. It's a modern device that cuts all types of hard and semi-hard cheeses in all maturation stages into equal pieces. You can choose between cheese cutting devices for up to 300 mm or up to 400 mm cheese diameter and the cutting knifes to cut the cheese wheels into anything from 2 to 15 pieces or even more (by demand).
The advantages of Plevnik cheese cutting device RS are:
All pieces are of equal dimensions

It saves a lot of your time – you can cut even up to 360 wheels of cheese in one hour

Use is simple and intuitive using only three buttons

Operation with the device is completely safe

The device is made out of high-quality materials that enable simple maintenance and cleaning

The only thing needed for operation is a standard compresses air connector – no electric source is needed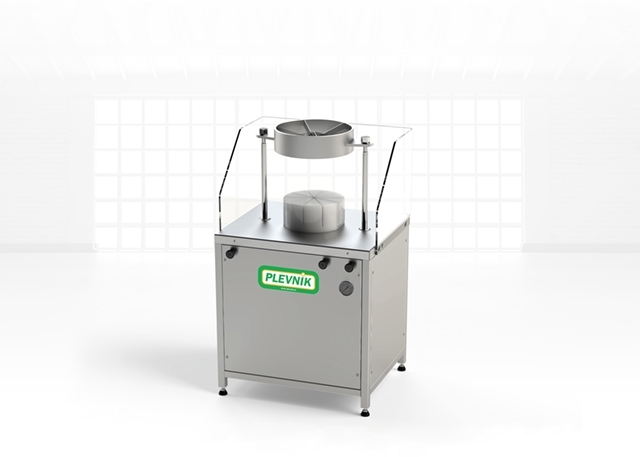 Improved cutting knives
We are offering a special 2-in-1 solution: cutting knife with one regular and one adjustable blade for cutting cheese into 2 or 4 pieces. The adjustable blade can simply be removed or added back – a functional solution. This knife takes up less space than two separate knives. It is also a cheaper solution.
>> More information