Awards for best Plevnik representatives in 2018

30.1.2019
Plevnik has a network of professional sales representatives with wide technical and cheesemaking knowledge. They take care of customers all over the world, advise them and offer complete after-sale services.
For the first time we are giving out awards to the best of them: award for representative of the year, award for special achievements and award for lifetime achievements.
Award for representative of the year 2018: Avedemil, France
Company Avedemil is Plevnik representative for more than 10 years and is one of the most successful Plevnik representatives. The company is putting a lot of effort to ensure the best support and after-sale services for customers. They have a wide range of references and also a network of their own representatives to advise and support their customers and be present at various fairs. One of Avedemil's advantages is extensive knowledge of cheesemaking which helps them achieve outstanding results.
Award for special achievements 2018: APF Trade, Romania
APF Trade is Plevnik representative for 6 years. The company had excellent sales growth last year. Complete dairy solutions are an important part of Plevnik's business. The share of complete dairy solutions in APF Trade's sales in 2018 was the highest out of all representatives.
In last years, APF Trade successfully exhibited at Indagra fair in Romania. They often visit us with their customers to show them Plevnik equipment in show room or in reference diaries and demonstrate the functioning of Plevnik devices.
Award for lifetime achievements: Mr. Sylve Andersson, Rinna Ekologi Systems, Sweden
Mr. Andersson has been our representative since the start of the decade and has made important contributions to our brand's recognizability not only in Sweden, but also in the whole Scandinavian region. Since the beginning of our partnership, we have been exhibiting together at Elmia, the largest agricultural fair in Scandinavia.
Rinna Ekologi Systems, led by Mr. Andersson, had constant growth all these years.
Mr. Andersson is extremely committed and persistent. He is a very kind person that enjoys working with people and really works with his heart. That's the reason customers like him so much and are loyal to him and our brand.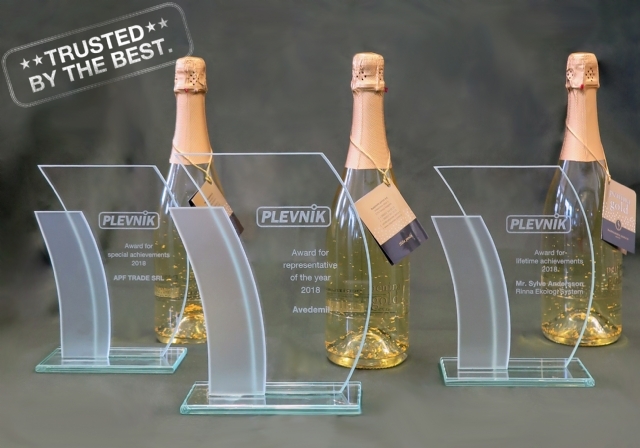 We sincerely congratulate to the winners and are convinced that these awards will encourage them even more to excellent work and results in following years.