Awarded Plevnik devices: pneumatic draining press POS 50 and pasteurizer P 200 EL Pro with new elevating device

15.9.2019
At Agra fair in Gornja Radgona, Slovenia, 39. International Assessment of Agricultural Machinery and Equipment took place. Company Plevnik won two awards:
Gold medal for pneumatic draining press POS 50 in category new products of national production

Gold medal for pasteurizer P 200 EL Pro with elevating device in category products of national production.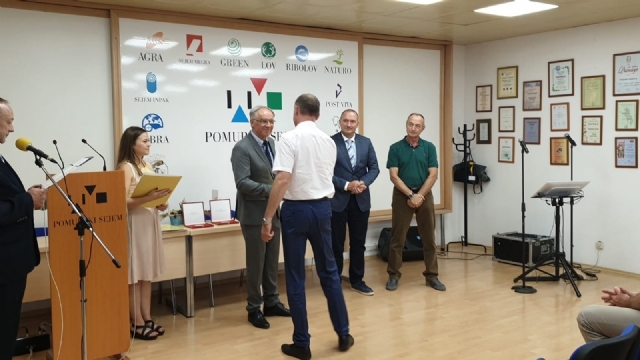 Award ceremony
Company Plevnik is specialist for milk processing and offers complete technological solutions for milk and cheese production.
Pneumatic draining press POS 50
Plevnik pneumatic draining press POS is a cheese press with integrated draining table, that enables draining, prepressing and pressing of cheese mass in one device. POS is a perfect device for cheesemakers with smaller batches of milk (up to 500 l/day) who need a cheese press.
The advantages of Plevnik pneumatic draining press:
Draining, prepressing and pressing using one device

Three devices in one enable optimum use of space – a great solution for smaller dairies

Excellent ratio between quality and price – three high-quality devices in one

Support on wheels and working height enable ergonomic operation with the machine and simple moving around

Adjustability to your batches and recipes

Repeatability and constant quality of final products are ensured with standardized and automated processes
>> More about pneumatic draining press POS 50
Pasteurizer P 200 EL Pro with new elevating device and new professional stirrer for yogurt, cheese and milk
Plevnik pasteurizers are state-of-the-art devices for thermal processing of milk in the range of 4 and 100 °C into dairy products: pasteurized milk, yogurt, cheese, ricotta, curd, … The advantages are:
Energy efficiency. Efficient energy exchange ensures 10 to 30 % lower energy consumption.

Diverse and efficient stirring with new professional stirrer for yogurt, cheese and milk. This is the first time a helical stirrer appears in the segment of milk processing of 100-500 l. Intense stirring and gentle action on the structure of the product enables the user to create homogeneous end products. More about the stirrer

Automated processing operations with state-of-the-art controller MC 500 R with integrated recorder. The controller has a large, 5" colour touchscreen display that allows simple and intuitive operation. Integrated recorder enables compliance with strict regulations for recording pasteurization. The user also has insight into past processes and therefore quality control. It's easier for the user to improve current and develop new products. More about the controller and video

Simple maintenance and cleaning – the entire device is made of stainless steel, the inside of the vessel is polished (2R polish). This facilitates the cleaning of the device.

Extending the functionality of the device with a wide range of additional equipment, including elevating device, which enables more ergonomic work: adjusting the working height according to the needs and active processes. There is no physical stress, the elevating device only needs two buttons to operate. Elevating device was recently redesigned and is now a more affordable, favourable investment. We recommend it also for dairies with lower ceilings. More about the elevating device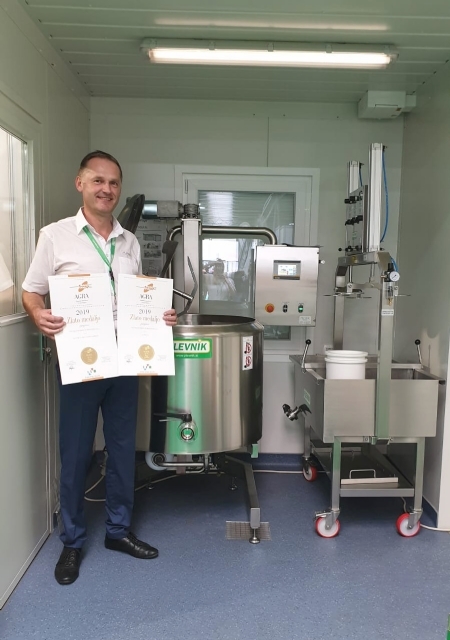 Mr. Slavko Plevnik with the awards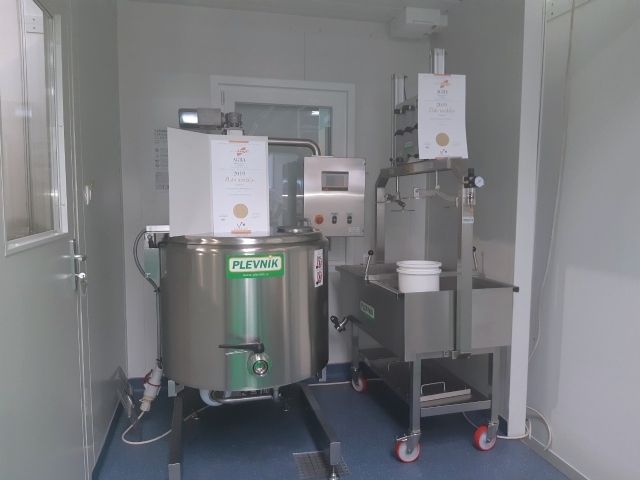 Awarded devices
The awards were handed out on Sunday, 25. August. Mr. Slavko Plevnik, one of the founders of the company, accepted the awards.