Flow Pasteurization 300-3000l/h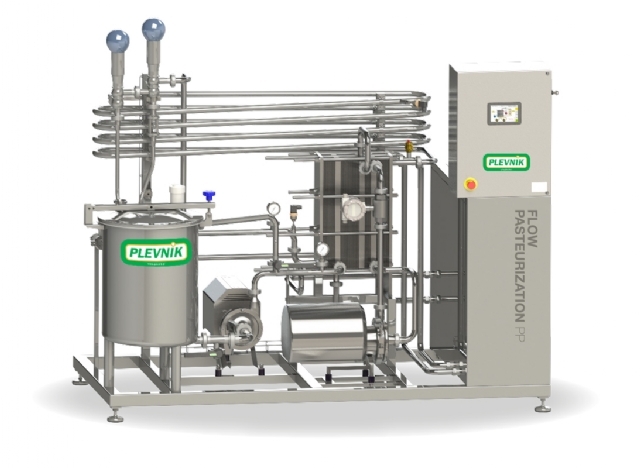 Modern way of pasteurization
Energy-Saving Technology, 3-times Faster process and Money-Saving
Application:
◊ For continuous pasteurization of milk.
◊ Regenerative milk preheating and cooling
(Heat recovery up to 90%)
◊ The pasteurizer can be used for production of
cheese and yogurt.
◊ The pasteurization stops the vital activity
of pathogenic forms of bacteria such as Esche-
richia coli, brucellosis and heat-resistant bacteria.
Benefits:
◊ up to 12-times less energy for drink milk
and up to 2-3 times for cheese/yogurt
◊ up to 3-times faster (compared to batch)
◊ Milk heat treatment at user selected temperature
◊ Time saving with no extra heating or cooling
◊ Size selected regarding to the customer needs
◊ According to sanitary standards
◊ Increased product safety and prevent reinfection.
◊ Existing or independent heat source
◊ Easy and logical operation via PLC controller
◊ Continious and premanent record of essential
information with integrated recorder
BASIC FLOW PASTEURIZATION
◊ Entry model with basic temperature controller
◊ Automatic divert valve for leading unpasteurized milk back to buffer tank
◊ Basic temperature recorder for overview of the process
ADVANCED FLOW PASTEURIZATION
◊ Automatic process with touch-screen PLC controller
◊ Automatic valve for leading unpasteurized milk back to buffer tank
◊ Integrated advanced recorder with complete overview of the process

PROFESSIONAL FLOW PASTEURIZATION
◊ Increased product safety with overpressure system
◊ Automatic process and improved temperature regulation with touch-screen PLC controller
◊ Automatic valve for leading unpasteurized milk back to buffer tank
◊ Integrated advanced recorder with complete overview of the process
>> More