Vats and cisterns up to 4000l
Cheese kettles and cisterns PLEVNIK are used for the thermal treatment of milk into dairy products such as soft, semi-firm or hard cheese, curd...
Cheese kettles and cisterns are made from environmentally friendly materials. The biggest advantages of our products are:
● The kettle is entirely made of stainless steel W.Nr.1.4301 and in accordance with international standards, CE directives and the newest innovations in the dairy industry.
● An extremely effective heating system with an integrated heating surface
● Easy cleaning and maintenance because of the excellent manufacturing and accessibility (washing heads, device height, service opening)
● Easy to use control panel for heating, cooling and stirring milk
● Are user and environmentally friendly and easy to use
● Are made for long term use (in terms of sustainable development and environment protection)
● Have low energy consumption and are very efficient
Cheese vat SKH/SCH 2O uses two O-shaped kettles merged into one uniquely shaped cheese vat and presents a modern, up-to-date space-saving solution. This new cheese vat helps you achieve more. Specially shaped harps ensure higher efficiency – you get more cheese from the same volume of milk thanks to extra precise cutting of the cheese mass.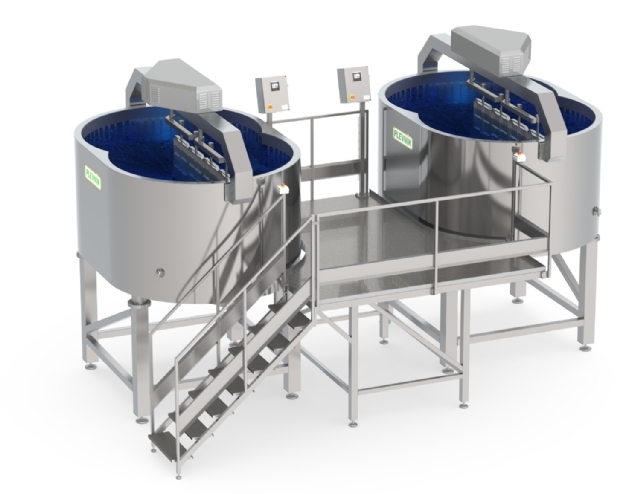 SKH / SCH
SKH / SCH 2O
>> More

SCH 2000 C - cheese making