Ice bank
The ICE BANK SHL 5 – 1000 thermal storage units are used for refrigeration and air conditioning in all applications where it is needed a maximal thermal exchange in a short period of time (air conditioning of meeting rooms, cinemas, theaters, refrigeration in dairy and food industry...).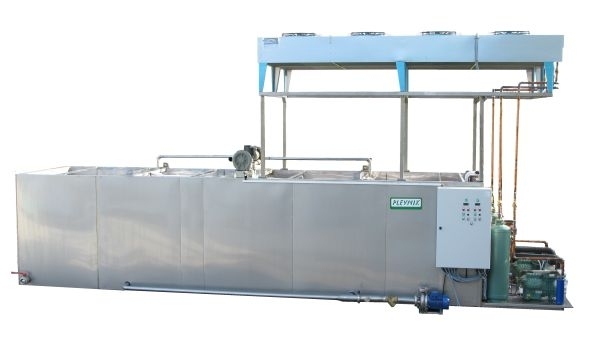 The ice storage systems SHL are thermal storage units with large thermal capacity, made in the range from 5 to 1000kWh of stored cooling energy. They take advantage of the change of state of water into ice and the relevant melting heat of 335kJ/kg.
With an ear for environment!
In comparison with systems without stored energy, the smaller is the time of use the bigger are the advantages of the ICE BANK thermal storage units.

Advantages of the SHL Ice Bank

● Maximal capacity of thermal exchange because of large quantity of stored energy
● Water is cooled down to 0,5°C
● Because of the constant ice surface untill the end of the melting process the water temperature stays constant for the entire period and the exchange of thermal energy is maximal
● The quantity of stored energy can be from 20% to 100% of the ice bank capacity
● SHL4 – SHL20 ice banks have condensing unit on the support frame (made of stainless steel) below the tank. The option of a remote condensing unit is also available
● Minimum running costs because of the possibility to avoid the spikes in electrical energy consumption
● Maximum safety since freezing does not cause any damage to the equipment unlike in tube chillers
● In case of a breakdown there is the possibility to use the made ice until the service personnel arrival
>> Technical data